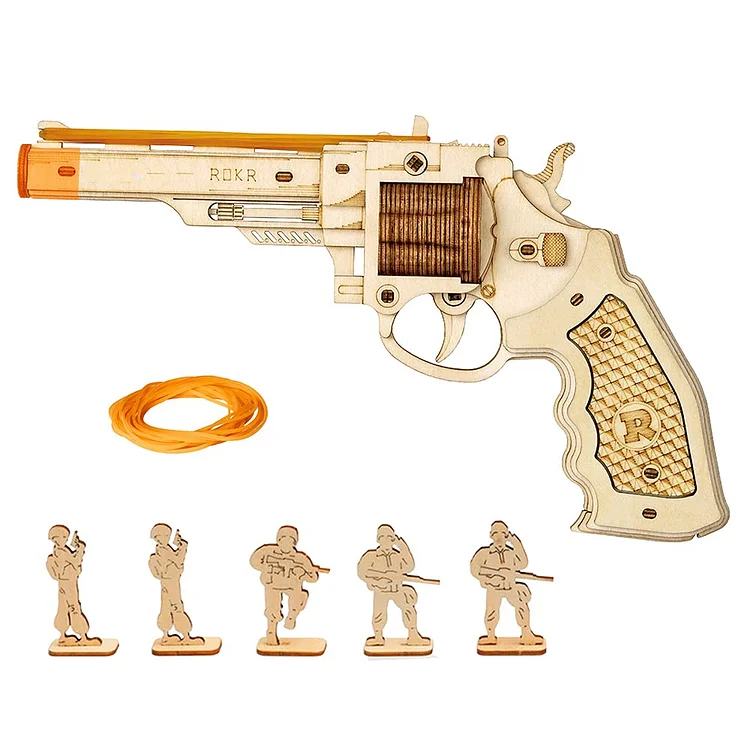 【Wooden Material and Laser Cut Design】This is a perfectly designed DIY kit that requires your hands-on work to complete. This mechanical wooden puzzle toy uses precision laser cutting of high- quality plywood, which is safe and environmentally friendly.

【Really can Shoot with 5 Villains Targets Attached】When you finished assemble it, you can use Rubber Bands as Bullets to shoot the villains targets.It's effective range is about 10-15 feet.It will have a lot of fun to play with.【Enough Soft Rubber Band Bullets and safe for child】Up to 100 Rubber Bands as Bullets, won't worry about running low on bullets, and soft bullets won't feel pain even shoot on your skin. it's safe for children.
【Ideal Gift and Fine Ornament】This is an amazing gift for any occasion. At Christmas, new year, birthday, Valentine's day as a gift to a boyfriend, son, father, or grandfather. In addition, it can be used as a family decoration, in the study, on the desk.【Matters Needing Attention】Be careful to connect the parts in a complete and solid way to ensure that it runs well. Don't put it in a wet place.