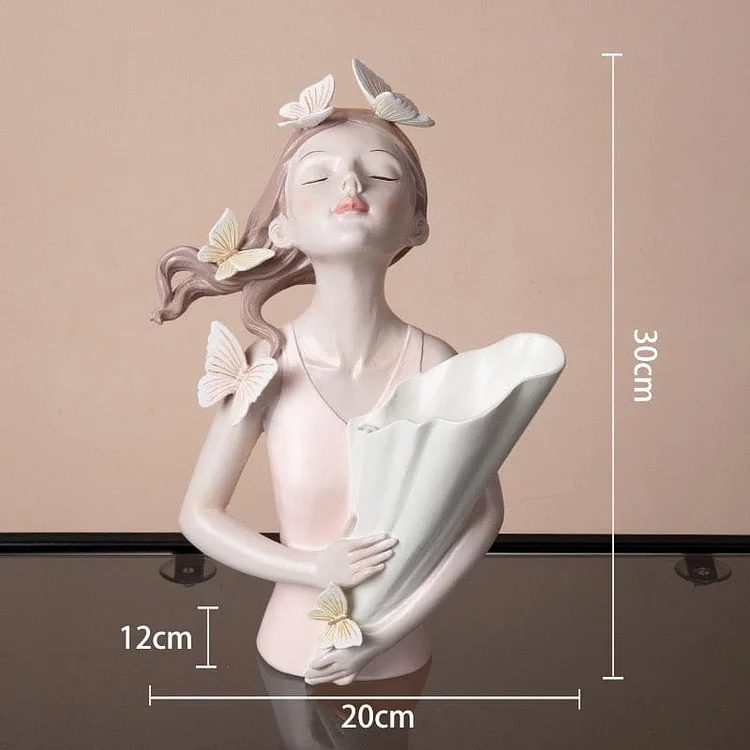 This sculpture of a mysterious young girl, surrounded by butterflies, carrying in her arms a bouquet of flowers all in a pastel complexion to something truly magical and will create a unique contemplative atmosphere in the room of your choice.
Instantly transform the look of your home by installing a ceramic vase.
Vases of flowers can evoke an emotion, tell a story, or simply beg the viewer to look at things from a different perspective. Whatever room in your home you want to breathe new life into, you won't go wrong choosing the "La Jeune Fille aux Papillons" vase, a vase with a modern artistic design that will nevertheless recall the finest hours of decoration. that will amplify the beauty of your home and bring your room to life.
Contemporary home decor sculptures infuse a stylish atmosphere and will turn your home into a real little museum.
Since most modern interior design ideas use white as the base color, it provides the perfect backdrop for sculptures and other artwork. Being aware that color is a key element that influences our way of thinking, inspires our decision-making and impacts our mood, we thought of helping you to brighten up your interior space and providing you with an array of colors in shades pastels such as gray, blue, green or even orange.
You can also accompany La Jeune Fille aux Papillons holding the bouquet of flowers of her little sister, also a friend of butterflies, and you will thus let these two adorable little girls dazzle with their beauty inside your home.