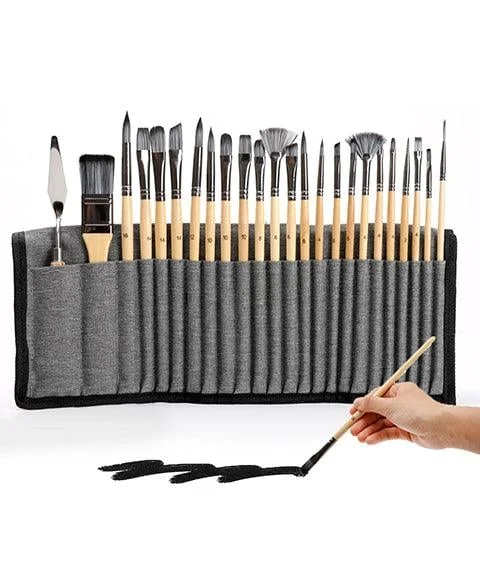 This brush set is perfect for every level of artist from beginners to professionals. If you are looking for elegantly made paint brushes for personal use or as a gift, our high-quality nylon paintbrushes set will be ideal for you.
Our best paint brush set is designed to work best with gouache paint, but they are also great when working with acrylic paint, watercolor, and ink. Ideal for use on canvas, card, or paper. This set is the perfect addition to your painting supplies whether a professional artist, hobbyist, or student just starting out.

Ideal Acrylic and Oil Paint Brush Set
There are 7 different shapes in this set, 24 different brushes in total; perfect for enthusiasts of acrylic, oil, watercolor and gouache painting. They are Wide Flat, Flat, Filbert, Angle, Round, Liner and Fan.
A Palette Knife Included
Each brush set has a palette knife, excellent for most paint mixing jobs. You can even use it to apply paint on paper and canvas directly.
PVC Interlining
There is a layer of PVC lining inside the cloth roll and cover. It is easy to clean and prevents the roll from being soiled. The smooth surface also protects the brush bristles.
Multi-usage
This set can be applied to multiple mediums such as face painting, shoe painting, canvas painting, and even ceramics. Why wait any longer? Start your painting journey today.
Durable and Premium Brush
Designed to last, a real work-horse. Efficient water absorption, and shape will not distort even after long-term use.
Product information
Package Size: (24*35.5cm)

Weight: 0.6 lbs

The length of brush handles are from 7.5" to 8.9".