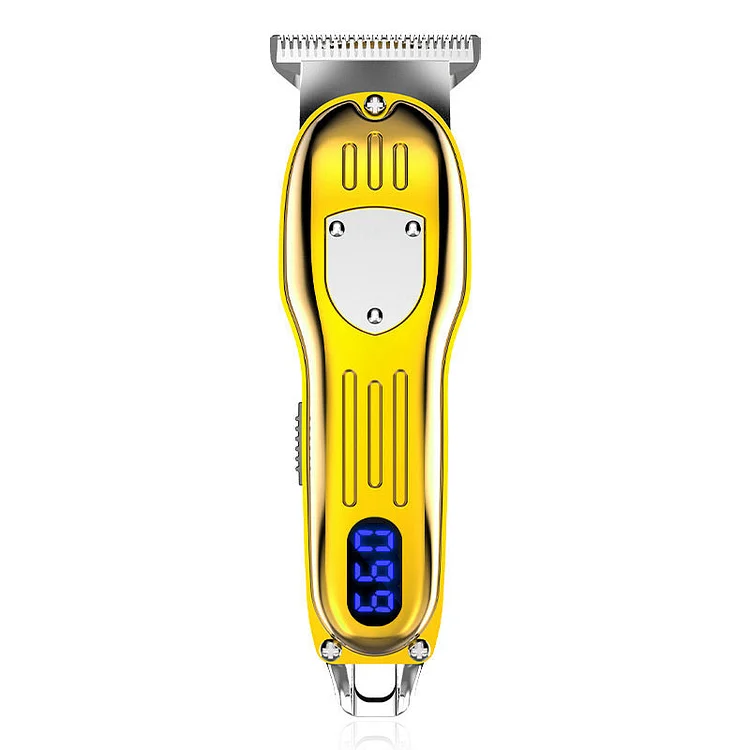 Description
Upgrade your grooming routine with our LCD Digital Hair Clipper, a powerful and precise tool designed to deliver professional-quality haircuts in the comfort of your own home or salon. With its precision cutting, powerful motor, long battery life, and easy maintenance, this hair clipper offers exceptional performance and convenience. Achieve the hairstyle you desire with confidence, knowing that you have a reliable grooming companion by your side. Say goodbye to costly salon visits and hello to salon-quality results at your fingertips.
Key Features
PRECISION CUTTING WITH LCD DISPLAY 
The LCD Digital Hair Clipper is equipped with cutting-edge technology that ensures precision and accuracy in every trim. The built-in LCD display provides real-time feedback, including the selected cutting length, battery status, and usage time. This allows you to have complete control over your haircut, ensuring a consistent and professional look. The adjustable cutting length settings, ranging from 1mm to 3mm, provide you with the flexibility to achieve various hairstyles and hair lengths with ease.
POWERFUL MOTOR FOR EFFORTLESS CUTTING
The heart of our LCD Digital Hair Clipper is its powerful motor, designed to deliver consistent cutting performance. This motor ensures that the blades remain sharp and efficient, even when cutting through thick or coarse hair. The powerful motor also minimizes hair pulling and snagging, ensuring a smooth and comfortable grooming experience. Say goodbye to tugging and discomfort, and enjoy effortless cutting with this high-performance hair clipper.
LONG BATTERY LIFE AND CORDLESS OPERATION
Convenience is a top priority in our LCD Digital Hair Clipper's design. The built-in rechargeable lithium-ion battery offers extended usage time, allowing you to complete multiple haircuts on a single charge. You won't have to worry about interruptions or power cords getting in the way. The cordless operation provides freedom of movement, making it easy to maneuver around the head and reach all areas for precise cutting. Additionally, the clipper often includes a convenient charging stand or USB charging option, ensuring that it's always ready for use.
EASY MAINTENANCE AND CLEANING
Keeping your LCD Digital Hair Clipper in optimal condition is hassle-free. The detachable and washable blades make cleaning a breeze. After each use, simply remove the blade assembly, rinse it under running water, and allow it to air dry. This ensures that your clipper remains hygienic and ready for the next grooming session. Additionally, our models include blade oil and cleaning brushes to help you maintain the clipper's performance and longevity. Regular oiling of the blades keeps them sharp and reduces friction, ensuring smooth cutting.
Specification
Color: Gold, Silver
Power Supply Mode: Charging/Power
Power: 5 W
Package Includes
LCD Digital Hair Clipper*1
Notes
1. Please allow 2-3cm error due to manual measurement. Please make sure you do not mind before purchasing.
2. Color may not appear as exactly as in real life due to variations between the computer monitors.