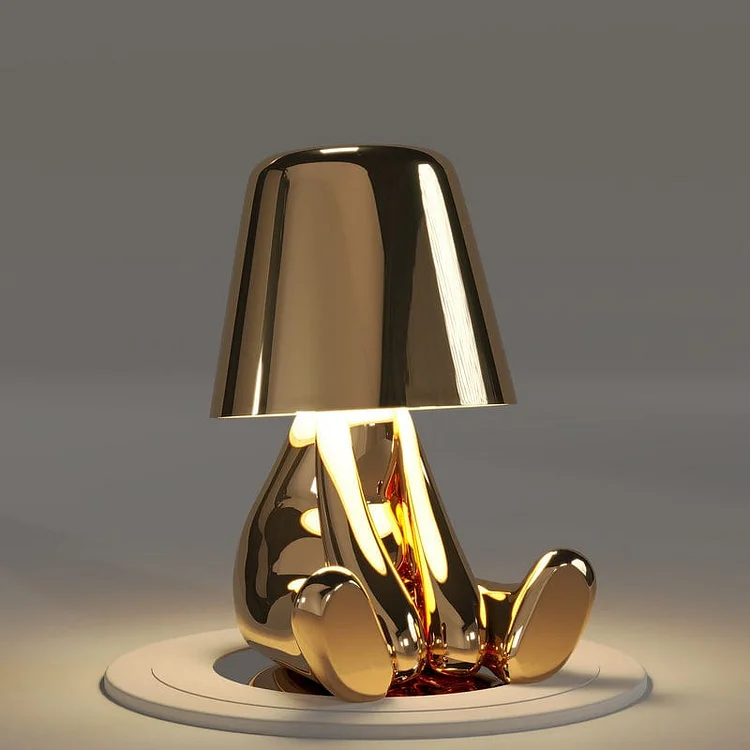 Add a touch of whimsy to your home with our sparkling Mr. Gold lamps.
"The quality and weight of the lamps are exceptional. I contacted customer service with a question and received a response within 8 hours. Extremely impressed with this family run business. I will be back to purchase more. Thank you!"
5/5 ⭐ Elise M.

Why our Mr. Gold lamps?
If you're looking to add personality and character to your space, look no further: Mr. Gold. The intricate details of each lamp are sure to catch the eye and add interest to any room.
In addition to their aesthetics, Mr. Gold lamps are also energy efficient and durable. Each lamp is made with high quality materials and designed to stand the test of time.
So why wait? Make an impression with a Mr. Gold lamp today and bring life and personality to your interior.
Perfect for creating different moods throughout your home whether in your living room or on your dining table.
A "cocooning" atmosphere
The soft light of our Mr. Gold offers you a calm and warm atmosphere in which you can relax after a busy or stressful day.
Create your own rest zone and relax your mind in a "cocooning" light
A modern and elegant design
The sophisticated design of the lamp brings a warm atmosphere into every room.
Give a nice touch to your living room, bedroom, bathroom or office.
Your guests and family will be impressed by this one-of-a-kind light!
Practical use
In addition to adding visual interest to a space, Mr. Gold lamps can also serve a practical purpose by providing supplemental light when needed.
Mr. Gold lamps can add a unique and eye-catching element to your home or office decor. They can create a warm and friendly atmosphere, especially when paired with soft lighting.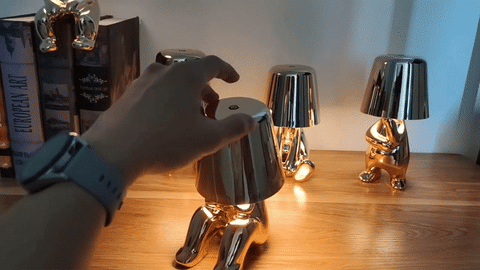 Our Mr. Gold lamps have a sensor above their head. After installation is complete, you can easily change the color intensity by tapping on Mr. Gold's head!
Discover our family of Mr. Gold character-lamps...
Particularities of Mr. Gold
✔️ Unique & classy
✔️ Not commercially available
✔️ Sustainable and energy efficient
✔️ Versatile
Features

Height: 15.5cm - 18cm
Width: 8cm - 13cm
Material: Polycarbonate
Colors: Gold, Silver
Pensive: 19 x 11 x 12cm
Relaxed: 17.5 x 10.5 x 13cm
Sad: 19 x 11 x 11cm
Determined: 19 x 11 x 12cm
Angry: 17.5 x 11 x 15cm