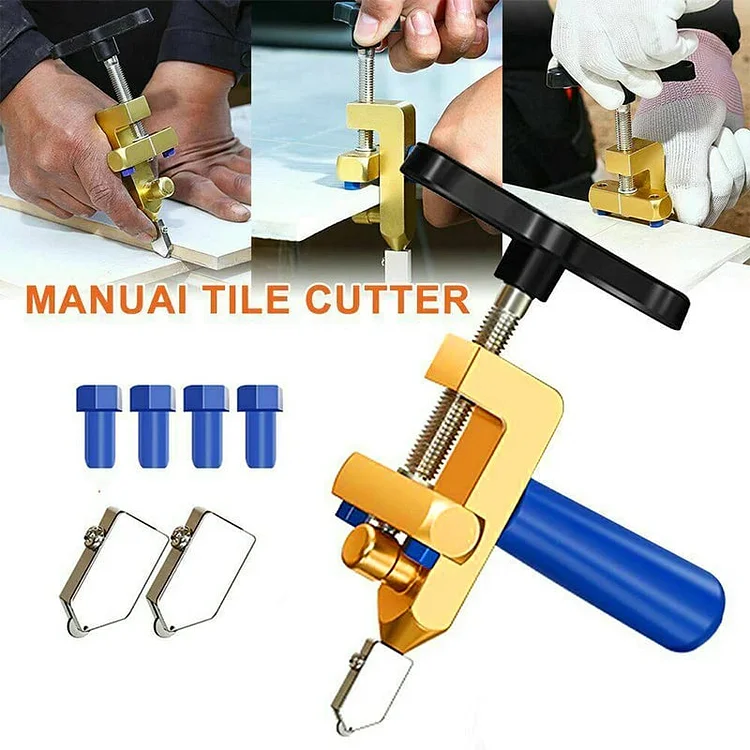 Cut thick glass and tile with ease!
This efficient tile glass cutter is not only fast but also cuts super flat!

FEATURES: 
⚙【Portable & Easy to use】-The total weight of the set is 340g, even if you are working alone, you can easily operate it. When you use it, you just need to draw the shape you want to cut on the tile, and then use the pressure pliers to slowly rotate it.

⚙【Advantage of the tile cutter】-The structure design is reasonable, which effectively avoids the damage caused by the manual separation of workers after cutting glass and tiles, and avoids the damage to tiles and glass when using other tools for forced separation, which brings great convenience to people's daily work.

⚙【DIY tools】-This is a useful tool for DIY glass and ceramic craft lovers. This is also a useful home and work tool. In the process of home decoration, you need to cut the corners of the tiles to fit the room. With this portable tile cutting tool, you can easily DIY any shape.

⚙【Ingenious Design】-It has a sharp cutting glass knife that cuts hard objects easily. With precise marking device for making a scratch. The glass cutter is easy to hold and reduces wrist fatigue, letting you score glass with little effort and gives you clean cuts.You can add oil in the glass cutter to make it even more durable.
SPECIFICATIONS: 
Color: Blue and yellow

Weight: 0.75lb

Size: 7.2* 5* 1.8inches

Material: Aluminum alloy and PS

Packet: 1* Integrated Tile cutter