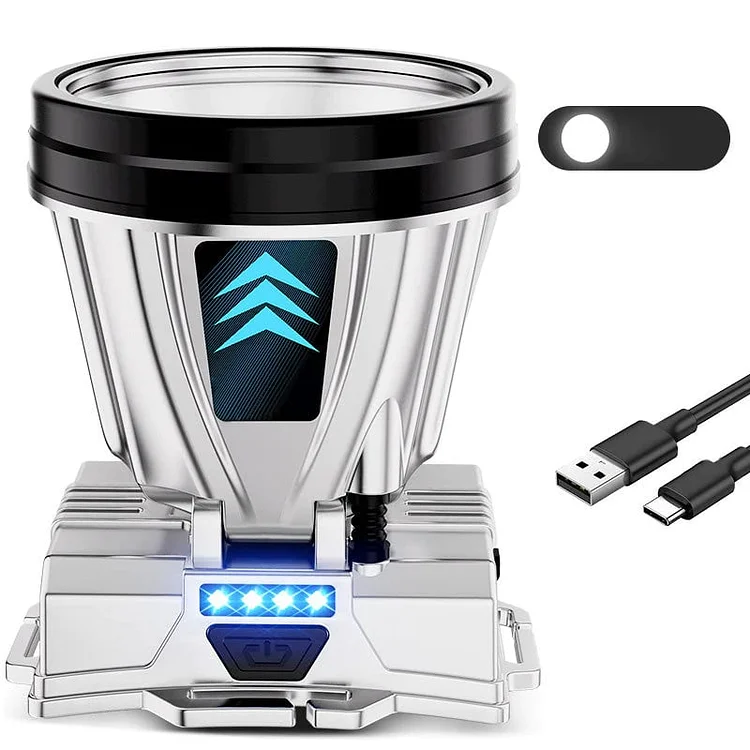 Light up Your Life With Our Headlamp!
Enjoy the freedom of hands-free illumination with long-lasting, powerful lighting. Experience the convenience of no hassle, no cords, no limits. Get the best in brightness and portability. Brighten up your world today!
Features
Super Bright - Equipped with a highlighted wicks which emits a dazzling light that can clearly illuminate a forest. The headlamp also features a deepen sturdy waterproof shell which has better reflective performance than ordinary plastic material, allowing for a farther refraction of light.
Power Display - The headlamp features a four grid dazzling blue light power display that allows you to easily check the power level of the battery. When the battery is fully charged, the indicator lights are all on and when it is charging, the indicator lights will be flashing. When the remaining 25% of the battery is used, it is important to charge it in time to avoid damage to the battery.
Power Bank Function - The headlamp comes with built-in 1200mAh batteries that allows for emergency charging of mobile phones at any time outdoors.
Three Gears Dimming - The headlamp features three gear dimming which allows you to switch between a strong light and a weak light and flash mode, making it applicable to all scenes.
Living Waterproof - The Super Bright Rechargeable High Power Headlamp is equipped with a life class waterproof feature which makes it easy to deal with bad weather.
Widely Used - The Headlamp can be used for a variety of outdoor activities such as exploring caves, running in the dark, camping under the stars, and other outdoor activities.
What Makes This Headlamp Be The GREAT CHOICE?
✔ Super bright
✔ Power bank function
✔ Waterproof
✔ Battery display
✔ Light adjustment
Specifications
Material: ABS
Light source form: LED
Rated power: 3W
Waterproof grade: IP31
Battery:  1200mAh
Product size: 12.5*9*9.5cm
Lamp weight: 191g
Weight: 262g
Package includes: headlamp * 1+charging cable * 1+headband * 1