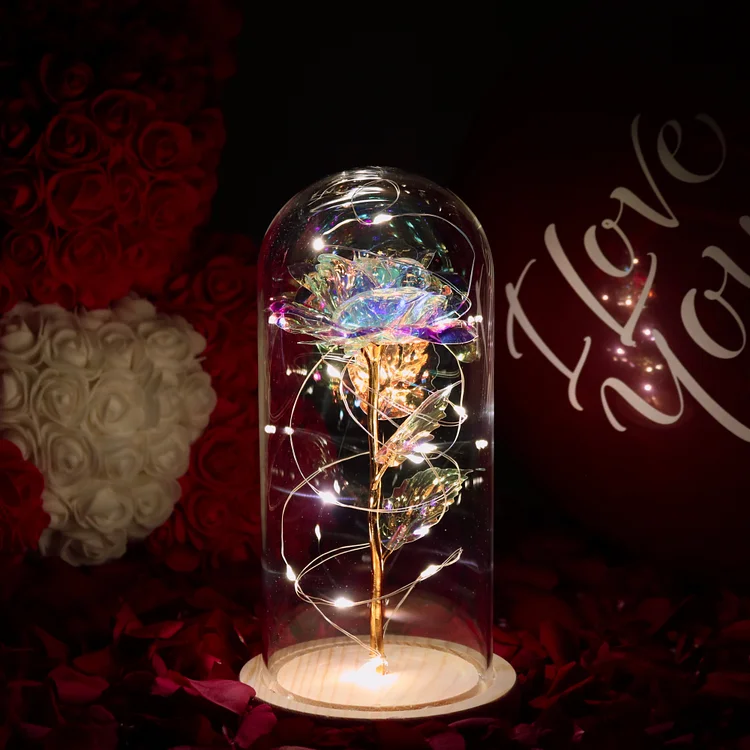 "I love you more than time goes by."
The never fading Enchanted Sparkly Rose represents belief in everlasting love.
Great for interior decoration. Would look amazing anywhere you want. A great gift for Birthdays, Christmas, Valentine's Day, Mother's Day, Anniversary, Wedding and more. Our Galaxy Enchanted Rose creates a calming feeling in the home when spending time with your loved ones.
✔ Handmade with love
✔ Filled with 20 LED string lights
✔ Encased in a glass dome
✔ Creates a warm, atmospheric light
✔ With charming base
✔ Makes birthdays and anniversaries special

Limited edition collection
Unique gift idea!
Express your love for that special someone in a unique and elegant way! To emphasize the beauty of a sparkling rose, the everlasting preservation dome represents all the efforts you and your partner have made to preserve the beauty of what you have in common!
Gift them to a friend or relative as a beautiful reminder of your appreciation.
Or as a gift for yourself as a tasteful and unique lighting solution!
The Magic Rose ✨
The magical glow of this dazzling rose will captivate whoever you give it to. What makes them even more special are the beautiful strings of lights that surround them and fill the air with a soft glow when lit.
Whether you're close to your partner right now or far apart, keep the spark of love alive. Send him all your affection with the ultimate symbol of love, the Enchanted Sparkly Rose.
Frequently asked Questions
Q- Are the batteries included?
A- No, you need to buy 3x AAA batteries separately.
Q- How long does the rose last?
A- This rose is designed to last a lifetime.
Q- Does it turn on and off by itself?
A- No, there is a manual switch on the bottom of the dome.
Q- Are the rose and the wooden base separate?
A- No, the glass dome cannot be separated as it is glued together to avoid accidentally breaking the glass or rose.
Q- Will the dome be assembled or is it a do-it-yourself build?
A- It comes assembled.
Q- What color do you recommend for a girl?
A- We would recommend Ruby Kiss or Triple Galaxy.