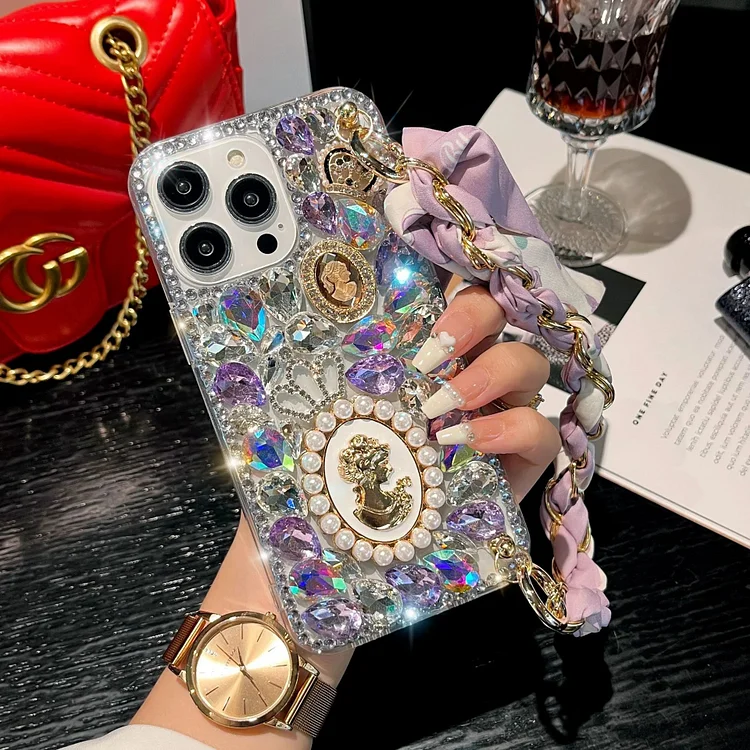 Diamond Queen Bling Case, crafted with premium acrylic material and adorned with trendy elements like rhinestones and chain accents. This handcrafted case combines style and functionality, providing full coverage and protection for various iPhone models. The luxurious and sparkling design adds a touch of glamour to your phone while ensuring it remains safe from accidental drops. With its anti-shock feature, this case offers reliable protection without compromising on style. Choose from a range of colors, including purple, pink, and black, all complemented by a stylish silk scarf accessory.
---
---
Brand: Flavourk
Style: Full Coverage
Material: Acrylic
Trending Elements: Rhinestones, Chain
Craftsmanship: Handmade
Colors: Purple + Scarf, Pink + Scarf, Black + Scarf
Compatible Models:iPhone 7/8, iPhone 7/8 Plus, iPhone X/Xs, iPhone XR, iPhone Xs Max, iPhone 11, iPhone 11 Pro, iPhone 11 Pro Max, iPhone 12 Mini, iPhone 12, iPhone 12 Pro, iPhone 12 Pro Max, iPhone 13 Mini, iPhone 13, iPhone 13 Pro, iPhone 13 Pro Max, iPhone 14, iPhone 14 Plus, iPhone 14 Pro, iPhone 14 Pro Max
Style: Luxurious and Sparkling
Function: Shockproof
Compatible Brand: Apple
Phone Cases Powered by Flavourk™ GUARANTEE
We take great pride in the quality of our products and guarantee you will be satisfied 100% with anything you purchase at flavourk.com.
If you have other questions about your order or product, please contact our customer service email: support@home747.com.