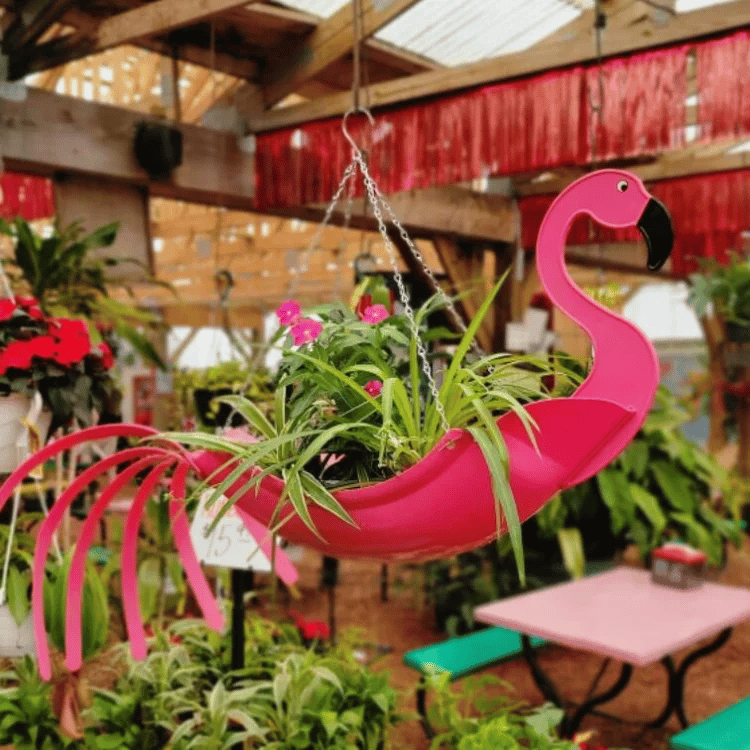 Decorate your patio with these bright planters. Make your yard unique and ready for spring!
Fancy "Flo" the Flamingo - The bright pink Flamingo was asked for by many customers the last year and has finally made its debut on the market. Fancy Flo is made with recyclable plastic with UV protection. Flo will be shipped with (1) beak, (1) body, (6) pink tail feathers, and (1) shiny zinc colored outdoor chain.
Gabby - Natural colored Green Parrot that has always been a customer favorite. :) Gabby is a natural colored green parrot with a bright red beak and six multi-colored tails. A one of a kind, unique hanging planter that brings vibrant colors and fun to any venue. Recyclable plastic with custom ordered UV protection to ensure lasting brightness to all the colors.
Tango the Teal Parrot - Tango is an awesome looking Teal body parrot with a royal blue beak and six multi-colored tails. The bright teal body and cobalt blue beak look awesome together. Multi-colored tails gives it that extra 'pop'.
Purple Parrot Patty - An awesome and fun parrot. Its very deep purple body and yellow beak are happy and fun.
Rudy The Rooster - This awesome looking rooster was asked for by multiple customers. So here we have it. Bright and lots of fun. :)
Riley the Red Rooster - Bright red body/yellow crown makes a statement. Brings plenty of smiles and questions- "Where did you get that?"
Size: 45*14*12cm
Material: Iron