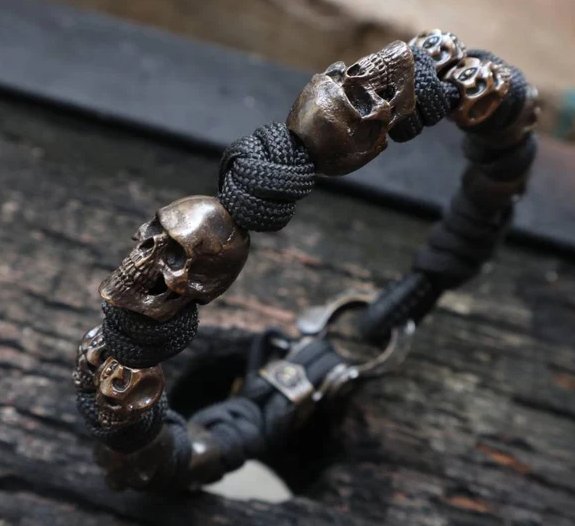 We used a lot of S925 silver to carve these skeletons and it was absolutely worth the money!!
Materials
- Perfect Skull Sterling Silver Black Oxide
- Half Skull Sterling Silver Black Oxide
- Mini Skull Sterling Silver Black oxide
- Catapult Shackle  Black Oxide
- 550 Type III paracord
One of the most nightmarish and haunting symbols throughout history has been the human skull. It's sometimes frightening, sometimes a warning, and sometimes a friendly reminder that eventually death claims us all. This simple yet masterfully designed bracelet features skull inspired by pirates, treasure, and warnings on ancient maps. It's definitely a statement, a conversation piece, and is great for a variety of looks and styles.
I weave these bracelets from 550 Type III paracord which is best known for its unusual strength to withhold 550Lb weight. It was used from WWII for many different tasks related with survival.
Fortunately we live in a more stable environment now and paracord rope now has additional task to serve – to supplement and enhance our style and individuality.
Measure your wrist over and around the wrist bone using a measuring tape, do not add to it. You want to measure is the distance around your wrist. This is important so please make sure it is accurate.
Handmade