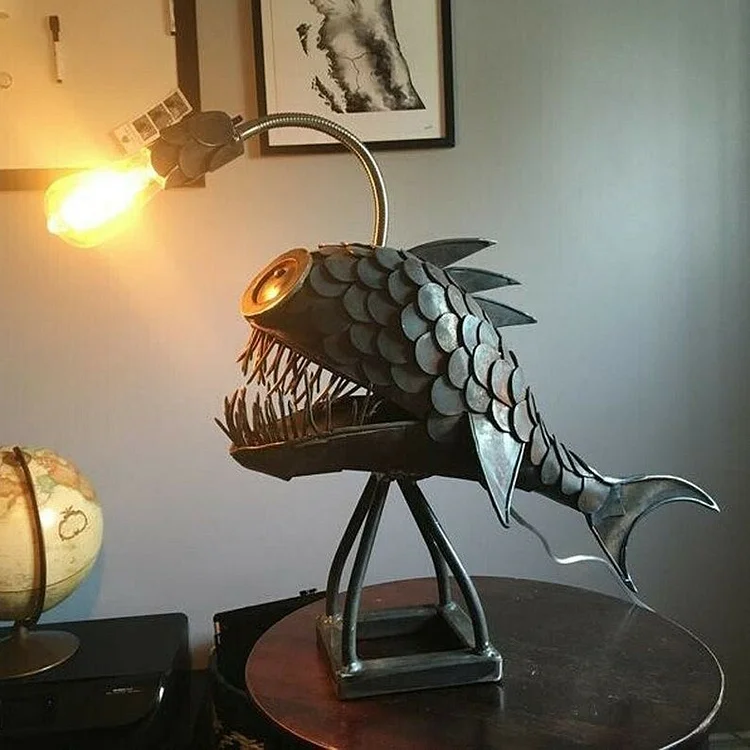 Our best seller item,The  fish is awesome and very fun, unique and well-built angler lamp. 
Angler Fish Lamp, USB Shark Night Light, Retro Art Office Desk Figure Lamp, Rustic Style Fish Statue Lightning, Best Home Decor Custom Art
♥This is not only a lamp, but also an artwork. The rustic wrought iron pipe design shows a unique appearance that complements your room.


♥This is a unique artwork, but also it is practical, because it can be used to illuminate your work area or bedroom. The flexible lamp holder can move!


♥It has a high value, and it is made of high-quality hand-carved materials. Which is safe, non-toxic and harmless. This product is not only a lamp, but also an artwork with high collection value.


♥The lamp is a small work of art, very well done. and its light is ambient and pleasant. The table lamp can be used for indoor lighting, including bedrooms, attics, basements, bars, restaurants, cafes, etc.


♥Simple on/off switch is easy to control. You can only use a simple desk lamp with the on/off switch on the power cord. It is very easy to install, and provides a lot of conveniences.


Sizes: 30*13*25cm
Package included:1*USB Table Lamp